Teacher Blogs
MONTESSORI ACADEMY - EVANSVILLE, IN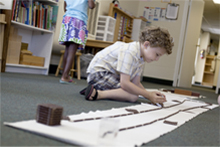 Teachers With Blogs
Current families only. Email your teacher for access.
---
---
---
---
---
---
All of our teachers hold four year degrees and have completed AMS (American Montessori Society) training for the level they serve. This training is the equivalent of an additional year of graduate study. In addition, all teachers are required to have fifty hours of continuing education every five years. This training ensures that the teacher is deeply knowledgeable about the developmental psychology of the children they serve in addition to how to invite and inspire the child's interest in Montessori materials and classroom.
The qualities of a young person who has grown up in a Montessori environment specifically include: creativity, adaptability, independence in both thinking and in managing one's life, and a strong concern for and dedication to the future of mankind.
Montessori students learn to be resourceful and to find the information they need when they need it. They learn to collaborate with others to find the best solutions to problems. These skills allow children to thrive in their Montessori classroom and beyond as they transition to their next school.
All of our teachers host blogs which allow current families a glimpse into the daily happenings of the classroom with updates on events and photos of happenings in the classroom. E-mail your classroom teacher to receive access to the blog and then click on the link below to visit!