Montessori Parent Teacher Organization (PTO)
MONTESSORI ACADEMY - EVANSVILLE, IN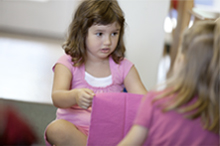 PTO INFORMATION
We have a PTO table to the left as soon as you enter the front door. Throughout the year, information about PTO events/meetings can be found here. Montessori has an active PTO and we hope you join us by volunteering and coming to the meetings. It is a great way to be involved with your child's school and to meet new people!
What does PTO do?
We raise funds to provide support to the school and its wonderful teachers and try to have as much fun as possible with those fundraisers!
We host a beginning of the year picnic (held in August) to give families a chance to get to know each other.
We host a costume party a Saturday in October.
We help keep maintenance costs down by organizing a fall and spring outdoor clean up day.
We host four PTO meetings a year. Each meeting has its own topic. We provide babysitting at those meetings so everyone has the opportunity to attend.
PTO Meeting Topics
Intro Meeting - Meet your child's teacher
November Meeting - Everything you wanted to know about Montessori Kindergarten (multi-purpose room) or the Montessori Elementary program (Elementary classroom)
February Meeting - How to Transition from Montessori to Traditional School
May Meeting - PTO Board elections
PTO Fundraisers
Early October - TBA
February - Montessoiree - Held at the Old Post Office, this dinner/dance/auction is a fun adult evening with custom auction items created by Montessori children!
Spring Flower Sale - orders due mid-March and delivery of beautiful flowers the first week of May
Ongoing fundraisers - Schucks scrip program, Box Tops for Education, Target Credit Cards