Montessori Parent Teacher Organization (PTO)
MONTESSORI ACADEMY - EVANSVILLE, IN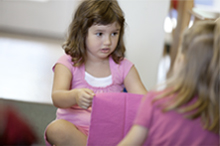 PTO INFORMATION
We have a PTO table to the left as soon as you enter the front door. Throughout the year, information about PTO events/meetings can be found here. Montessori has an active PTO and we hope you join us by volunteering and coming to the meetings. It is a great way to be involved with your child's school and to meet new people!
What does PTO do?
PTO hosts a series of events that provide fun activities for our families as well as fundraising events to support our school and our wonderful teachers. Listed below are a few of our events. More information will be available as each event nears.
We raise funds to provide support to the school and its wonderful teachers and try to have as much fun as possible with those fundraisers!
We host a beginning of the year picnic (held in August) to give families a chance to get to know each other.
We host a costume party on a Saturday in October.
We help keep maintenance costs down by organizing a fall and spring outdoor clean up day.
We host three PTO meetings a year. Each meeting has its own topic. We provide babysitting at those meetings so everyone has the opportunity to attend.
PTO Meeting Topics
1st Meeting – Topic: Time with Your Child's Teacher
2nd Meeting – Topic: Transitioning from Montessori to a Traditional School
Topic: What to expect in the Montessori Kindergarten Program or Elementary Program
3rd Meeting– Topic: PTO Board elections
PTO Fundraisers
Fall Mum Sale – Order Here
February – Montessoirée – Held at the Old Post Office, this dinner/dance/auction is a fun adult evening with custom auction items created by Montessori children!
Scrips Gift Cards-November & May-We raise money for the school when parents purchase our gift cards to pay for everyday purchases in place of cash, checks and credit cards – Order Here
Ongoing fundraisers – Schnucks scrip program, Box Tops for Education, Amazon Smiles, and recycled ink cartridges
Want to help?
There are many ways to become involved. Before each event, we send home information and volunteer opportunities-no experience necessary 🙂 If you want to find out more or volunteer, sign up at the PTO table in the dining room.
PTO Information
Event information and sign up sheets can be found on the PTO Bulletin board and table below located by the dining room entrance. A suggestion box is also located on the PTO table. We would love to hear your ideas, suggestions and/or comments!